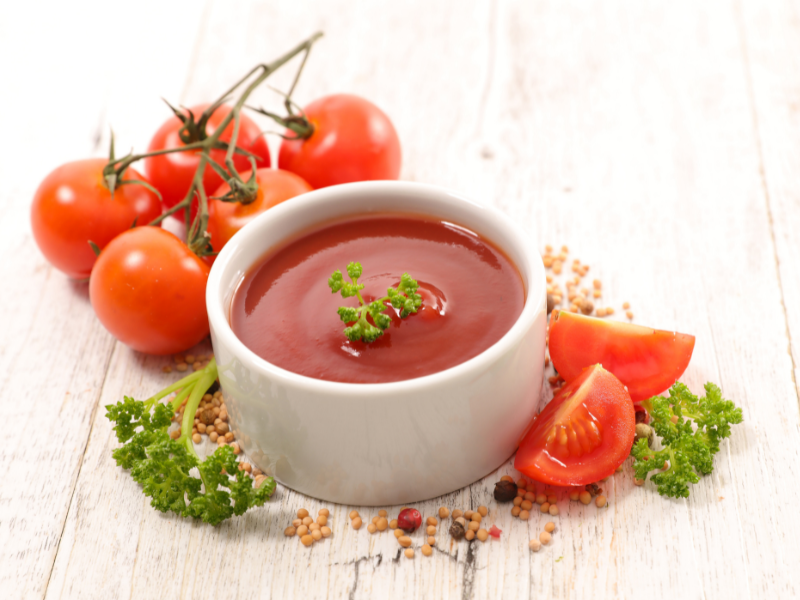 The Versitality of Troovy Healthy Tomato Sauce
Troovy Healthy Tomato Sauce is known for its versatility and the ability to elevate any dish with its unique taste and richness.  Here are a few innovative and delicious tomato sauce recipes from Troovy that you can try:
1) Cheesy Tomato Quesadillas:
Spread Troovy Healthy Tomato sauce on a tortilla, sprinkle grated cheese and your choice of vegetables (such as bell peppers, onions, or mushrooms) on one half, fold over, and cook until the cheese is melted. Cook until the tortilla is crispy. Cut into wedges and serve with Troovy's exciting Tandoori Dip.
2) Veggie-Packed Tomato Pasta:
Pick your favourite type of pasta and keep it aside for boiling. In a separate pan, sauté onions, garlic, and various colorful vegetables (such as carrots, capsicum, and spinach) until tender. Add Troovy Healthy Tomato sauce, Italian herbs, and seasonings. Stir in the cooked pasta and heat through. Top with grated cheese and serve hot.
3) Mini Tomato Pizzas:
Preheat the oven to 400°F (200°C). Take pizza dough or pizza base and spread the Troovy Healthy tomato sauce evenly on the base. Let your kids add their favorite toppings, such as sliced bell peppers, cherry tomatoes, olives, and grated cheese. Bake in the oven for 10-15 minutes or until the cheese is melted and bubbly. Enjoy the mini pizza with Tomato sauce on the side.
4) Tomato Sauce Paneer Tikka:
Cut paneer (Indian cottage cheese) into cubes and marinate them in Troovy Healthy Tomato sauce, yogurt, ginger-garlic paste, and spices like cumin, coriander, and turmeric. Thread the paneer cubes and grill or bake until light brown. Serve with Troovy Tandoori Dip on the side.
5) Tomato Sauce Vegetable Cutlets:
Mix and mash potatoes with grated carrots, peas, and chopped beans. Add Troovy Healthy Tomato sauce and a combination of spices like cumin, coriander, and chaat masala. Shape the mixture into patties and shallow fry until golden and crispy. Serve with Troovy tomato sauce or mint chutney on the side.
Troovy Healthy Sauces' unique tomato sauce recipes offer a range of flavors and options to enhance your meals. Enjoy cooking with your little ones!